Dread remorse when you are tempted to err, Miss Eyre; remorse is the poison of life. –Mr. Rochester
…and that was Mr. Edward Rochester, ladies and gentlemen, a character from Jane Eyre, one of my favorite books, by Charlotte Brontë. The question is, was Charlotte living by her writings, or did she live poisoned by remorse? Or even worse, what if she didn't have any remorse at all?
Personally, I take a deep interest in conspiracy theories, call it a hobby if you please. Some of them are easily debunked, some need more time, some are true, and there are some that will never be properly solved. This is one of the latter.
I don't think that the Brontë sisters need a special introduction. I'm sure that most of you have read, or seen at least one version of Jane Eyre or the Wuthering Heights, and those of you who are digging deeper, perhaps Agnes Grey, or the The Tenant of Wildfell Hall. Yes, this is the feeling we are going for, dark mansions, gray skies, hidden chambers, tormented characters, and unspoken terrifying secrets.
The Brontë family was living in the village of Haworth, in Yorkshire, England. Their home, which is now a museum, was facing a graveyard. There were initially six children in the family, one boy and five girls. The older sisters, Maria and Elizabeth, both died in 1825 of tuberculosis, at the ages of 10 and 11 respectively. Their mother followed soon afterwards. The boy, Branwell, became addicted to alcohol and laudanum and passed in 1848, at the age of 31. Anne and Emily both died from tuberculosis, around the age of 30. Charlotte was the only one who lived enough to reach 38. Here's where criminologist James Tully grew suspicious and started digging things up.
Charlotte had a number of affairs in the past, but none of them led to marriage. Then came Arthur Bell Nicholls, a curate in the Brontë estate. According to Tully, Arthur was courting Charlotte, and eventually convinced her to poison her sisters and her brother, so that they could inherit the estate, the loyalties, and improve their lives.
If Tully is right, everything went according to plan, and the couple got married on 29 June 1854. He goes on by claiming that Arthur turned out to be really greedy, and eventually poisoned and killed the pregnant Charlotte, only one year after their marriage, thus becoming the sole beneficiary to the family's fortune.
Now, here's the problem. I haven't read Tully's book on the subject – apparently he couldn't find a publisher and turned it into a novel- but he seems to overlook some important facts, like the extensive contamination of the water of the area, the poor hygiene, and the general vitamin deficiency of the population.
I guess the truth will never shine on this one. It definitely sounds intriguing, even fitting. Death had certainly cast a heavy shadow on this family, perhaps adding more, and with intent, is a literary hyperbole.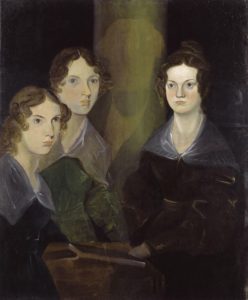 Image: The Brontë sisters, painting by their brother Branwell.
First published: 12/3/2017