Shhhh….shhhh….I know I'm late.
In order to make it up to you, I have prepared one of my favorite stories, one I've always wanted to do. So, with no further delay, here's what happens to you if you mess with the wrong woman…
We don't really know when Princess Olga of Kiev was born, and it's not really important, although astrologers will insist she must have been a Scorpio. What we do know, is that roughly around 910 she married Prince Igor, the ruler of Kiev. Now, those were weird, violent times, and three years after the birth of their only son, Igor was betrayed and killed by an opponent tribe, the Drevlians. Since her son was not of age, Olga became the regent ruler. This wasn't an easy task back there and then, but Olga had somehow gained the support of her people.
The Drevlians, on the other hand, seemed to underestimate her power and she was soon visited by a group of their best men. Their purpose was to convince her to marry their prince, Mal. Olga must have found the idea hilarious, and after leading them into a deep ditch, she had them buried alive.
I guess this is where Olga realized the full potential of her revenge, and decided to push things a bit further. She announced that she would in fact accept the prince's proposal, and required an escort of the finest, noblest men of the Drevlians, in order to visit him. Upon their arrival, they received a warm welcome, that got a bit too warm later on, as she led them into a bathhouse, locked them in, and burned the whole thing to the ground.
Now, Olga was a lady above all, and she then saw appropriate to hold a huge memorial service for her victims and her husband. She invited the Drevlians to join, but since she had already burned the most intelligent of them, the rest agreed to attend. 5000 Drevlians were killed that day by her troops. The number must be exaggerated, but still… After the massacre, she started preparing her army for her final assault on the remaining tribe.
Apparently, some Drevlians got the message and asked for her forgiveness. She agreed to spare them, but asked that each and every Drevlian household, bring her three pigeons and two sparrows. The people were happy to comply, thinking that the worst was over. Upon receiving the birds, Olga asked that a piece of sulfur (some say coal) be tied to each single bird. The same night, she set them all free, and the birds returned to their nests, back to the Drevlians. The whole area caught fire, almost simultaneously, killing the remaining Drevlians. Those who were lucky enough to survive the blaze, were either killed by her army, or sold into slavery.
Olga promoted Christianity, and was baptized sometime around 950. For this, and hopefully not the blazing pigeons, she was proclaimed a saint after her death. Next time you find yourself in an Eastern Orthodox Church, do light a candle for her. You probably don't want her to get pissed now, do you?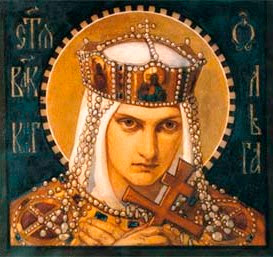 First published: 7/4/2017